Amazing landscapes and close encounters with locals 
Sites of interest
Coffee plantations
Banana plantations
Lodemi waterfalls
Endemic fauna and flora
Local people
Peace Matunda Orphanage
Temi Pottery Project
Matunda Cultural Tourism home base
Tour duration
1/2 DAY
1 DAY
2 DAYS
3 DAYS
Number of participants
1 person and above
Peace Matunda Tours operates cultural tours
in the spirit of eco-tourism. Mainly walking and mountain bikes will be used. If you want to get a close encounter with nature, areas like Meru are ideal. It is well suited for walking safaris in terms of landscape and culture. You will experience endemic fauna and flora and interact with the local people.
HALF-DAY / $ 35 USD:
Peace Matunda Cultural Walking Tour
In this half day visit, you will be invited to coffee and banana plantations owned by local people. You will also visit families producing local brew by using finger millet and banana. This is followed by a one-hour hike to the Lodemi Waterfalls; one of the most beautiful waterfalls on the slopes of Mount Meru. The tour is finishes at Matunda Cultural Tourism home base where you will be served a home-cooked traditional lunch. You will also get the chance to try our freshly made coffee. The coffee is locally grown and will be processed in front of you; from the newly picked beans to your coffee cup. You can also buy fresh-ground coffee to bring with you and share with your friends back home.
1 FULL-DAY / $ 45 USD:
Cultural Tour
The full day tour includes the half day cultural tour, then after lunch you can chose if you want to continue the day
on mountain bikes
walking
or if you want to stay at the orphanage to do activities with our kids and learn more about our project
For the fit and adventurous, mountain biking through the African landscape is truly an exciting experience. Avoid roads and traffic and ride through the forests of Meru land; up mountains, down valleys, through tiny villages and into bustling market towns.
The walking tour continues to Temi Pottery Project in Snig'isi village. The aim of Temi Pottery Project is to keep the Tanzanian Pottery tradition alive. They are manufacturing clay products in a traditional way and passing on the skills through the Temi Pottery School. Their ceramic products, such as candle holders, flower pots, and table ware, are available for purchase.
You can also choose to stay at Peace Matunda Orphanage. The children love visitors and will be happy to have you join them in their games. They are very open to new things, so if you want to prepare an activity for them, you are more than welcome. You will also get the chance to interact with our staff and volunteers to learn more about the orphanage.
2 FULL DAYS / $ 80 USD:
Cultural Walking Tour
Day 1: Full day cultural tour mentioned above.
Overnight at Peace Matunda Orphanage or campsite
Day 2: Hike through Mount Meru forest reserves situated at 2000m. As this is a rain forest area, it has a very rich flora and fauna. It is home to many bird species and monkeys. On a clear day, this is also where you can get the best view of snow caped Mount Kilimanjaro. And a splendid view of Mount Meru is guaranteed.
3 FULL-DAYS / $ 110 USD:
Cultural Walking Tour
Day 1 and 2 are the same as mentioned above, except the second night will be spent camping at the base of Mount Meru.
Day 3: The last day we will be walking back to Peace Matunda Orphanage.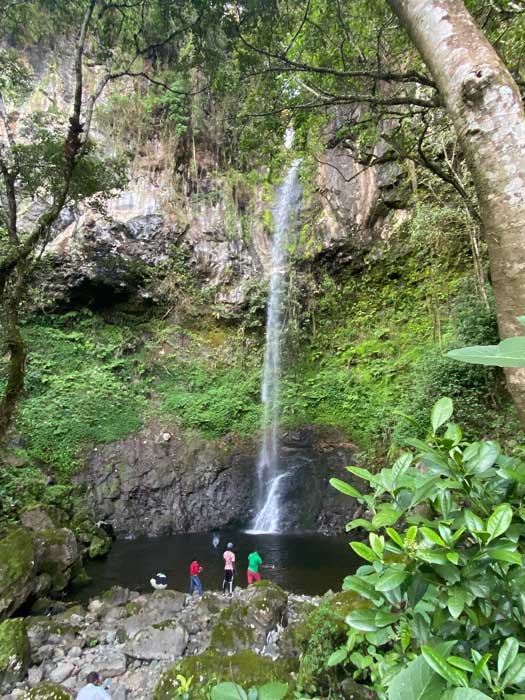 Peace Matunda Campsite
The aesthetically pleasing, gated campsite is in a rural area at the foot of Mount Meru opposite Peace Matunda School and Orphanage. Situated near the village of Kimundo, it includes: a washroom fitted with several toilets, showers and sinks, several seating areas, an open sided marquee with fitted lighting, a volley ball net and a large open space suitable for a range of activities varying from games to dining. 15% of campsite profits will go directly to Peace Matunda School and Orphanage.
Please read how one of our client enjoyed her full day Cultural Tour →